Seracam (hybrid gamma optical camera) is for investigational use only and has not been cleared or approved by the FDA or UK and European regulatory authorities.
Truly portable system for point of care molecular imaging
With a small camera head (6 inch / 15cm diameter) weighing less than 5kg, Seracam is truly portable and can be taken to any location within a hospital by a single operator. Plug-and-play connection means it is ready to use in any location within minutes.
The small size means the detector can be placed closer to the patient than conventional large detectors to improve image resolution/acquisition times. A pinhole collimator allows the operator to determine the optimum balance of image resolution, acquisition speed and field of view for the case at hand, and automatic change of aperture size without need for change parts provides a fast, flexible solution for many clinical applications.
By providing an alternative to conventional gamma / SPECT cameras for imaging organs and structures within a small, portable footprint, Seracam can both deliver further capacity within a nuclear medicine department without requiring an additional, dedicated camera room and provide access to molecular imaging at the point of care anywhere within the hospital.
Improving the Patient Experience
Imaging at the patient's bedside eliminates the need to bring the patient and nursing staff to the Nuclear Medicine Department, which can be difficult for some patients (e.g. ICU, paediatric department). A fully articulated arm makes it easy to position the camera head for imaging in whatever position is most comfortable for the patient (e.g. sitting in a chair or wheelchair, or lying down on a bed or gurney).
Automatically co-registered gamma and optical images with fully aligned field-of-view and real time streaming of image display facilitates positioning for imaging, and the added visual information on uptake in relation to surface anatomy can improve communication on investigational findings with the patient and referring physician.
The small camera head presents a less intimidating experience for the patient than conventional SPECT cameras, making it ideal for claustrophobic and paediatric patients.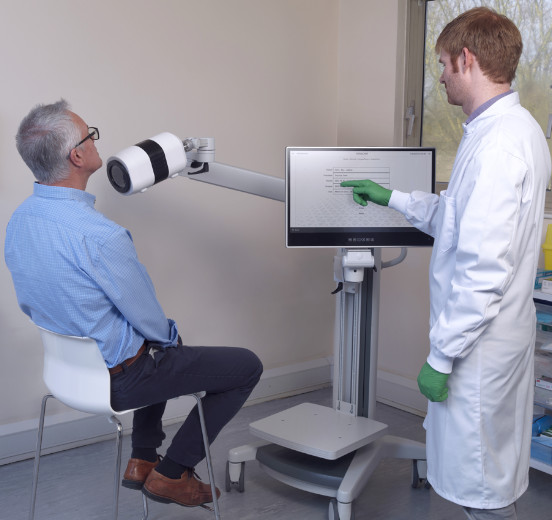 Read more
Bugby SL, et al. Investigation of an SFOV hybrid gamma camera for thyroid imaging. Physica Medica 2016;32:290–296.